Dr. Kafeel Khan's Heartfelt Twitter Letter to Shah Rukh Khan Hails "Jawan" as a Beacon of Hope
Mumbai, October 5, 2023 – In an emotional Twitter post, Dr. Kafeel Khan, former assistant professor at BRD Medical College, Gorakhpur, extended his heartfelt appreciation to Bollywood superstar Shah Rukh Khan for his latest film, "Jawan." The movie, which recently hit the silver screen, has struck a deep chord with Dr. Khan, who himself was embroiled in the Gorakhpur Encephalitis tragedy.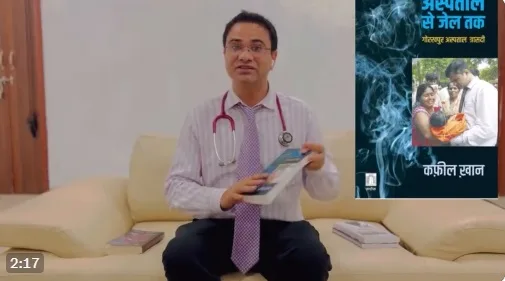 Dr. Kafeel Khan's Heartfelt Twitter Letter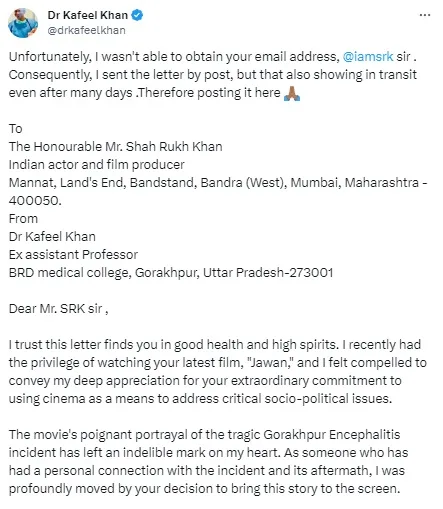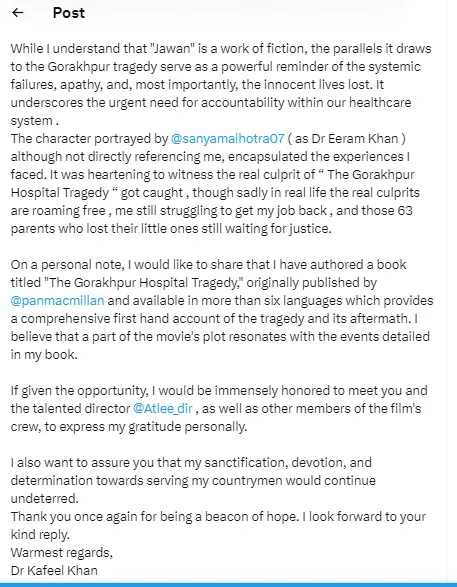 Unable to contact the renowned actor through traditional means, Dr. Khan turned to social media to convey his gratitude. In a tweet addressed to Shah Rukh Khan, he wrote, "Dear Mr. SRK sir, I trust this letter finds you in good health and high spirits. I recently had the privilege of watching your latest film, 'Jawan,' and I felt compelled to convey my deep appreciation for your extraordinary commitment to using cinema as a means to address critical socio-political issues."
"Jawan" is a compelling work of fiction that draws parallels to the Gorakhpur Encephalitis tragedy, a painful episode that Dr. Khan is all too familiar with. The film's portrayal of the incident and its aftermath resonated deeply with him. It highlights the urgent need for accountability within the healthcare system and the innocent lives lost due to systemic failures and apathy.
Dr. Khan, who has authored a book titled "The Gorakhpur Hospital Tragedy," praised the film for encapsulating his own experiences. Although the character of Dr. Eeram Khan, portrayed by Sanya Malhotra, does not directly reference him, it reflects the struggles he faced in real life.
"It was heartening to witness the real culprit of 'The Gorakhpur Hospital Tragedy' getting caught, though sadly, in real life, the real culprits are roaming free, I am still struggling to get my job back, and those 63 parents who lost their little ones are still waiting for justice," he noted.
In his Twitter post, Dr. Khan expressed a desire to meet Shah Rukh Khan and the talented director Atlee, along with other members of the film's crew, to personally convey his gratitude. He also reaffirmed his commitment to serving his fellow countrymen with "sanctification, devotion, and determination."
Dr. Khan's heartfelt message on Twitter not only underscores the impact of cinema in addressing critical social issues but also serves as a reminder of the power of storytelling in shedding light on real-world injustices. As "Jawan" continues to captivate audiences, Dr. Khan's words serve as a testament to the film's ability to spark important conversations and bring about change.
As the tweet remains in transit, awaiting a response from the Bollywood icon, Dr. Khan's message of appreciation continues to resonate with those who have followed his journey and the tragic events of the Gorakhpur Encephalitis tragedy. Shah Rukh Khan's portrayal in "Jawan" has not only won the hearts of moviegoers but has also received recognition from someone who lived through a similar ordeal.
Finding interesting the information? Find more entertainment news here.
My Personal Comment
After reading Dr. Kafeel Khan's Heartfelt Twitter Letter To Shah Rukh about Jawan Movie, I am so impressed. So here is my personal comment about Dr. Kafeel Khan's Twitter post:
After reading this news, what do you think about Dr. Kafeel's post you can comment us.
Follow Us On: Facebook | YouTube | Twitter | Instagram | Pinterest