Euro 2024 Qualification Drama: France, Portugal, and Belgium Triumph: In a thrilling turn of events on the European football stage, France, Portugal, and Belgium have successfully secured their spots at Euro 2024 with flawless records in the qualifying rounds. Kylian Mbappé and Cristiano Ronaldo, two of football's biggest stars, led their teams to victory, while Romelu Lukaku added to Belgium's celebration.
Key Highlights:
Mbappé's Brilliance: Kylian Mbappé delivered a stunning performance, netting two goals that guided France to a 2-1 victory over the Netherlands in Group B. His 41st international goal drew him level with the legendary Michel Platini.
Mbappé's Prowess: Mbappé's first goal came in the seventh minute, and he doubled the lead in the 53rd minute with a sensational curling shot. Feyenoord midfielder Quilindschy Hartman managed to pull one back for the Netherlands, ending France's campaign without a clean sheet.
Portugal's Success: Cristiano Ronaldo showcased his brilliance, converting from the penalty spot and scoring another goal to lead Portugal to a 3-2 win against Slovakia. Ronaldo now boasts a record tally of 125 international goals in 202 appearances, continuing to make history.
Belgium's Triumph: Romelu Lukaku and Dodi Lukébakio were the heroes for Belgium. Lukaku's ninth goal in six games secured their advancement with a 3-2 victory over Austria. Despite going down to 10 men, Belgium hung on for the win.
Details of the Matches: Euro 2024 Qualification
France Clinches Qualification: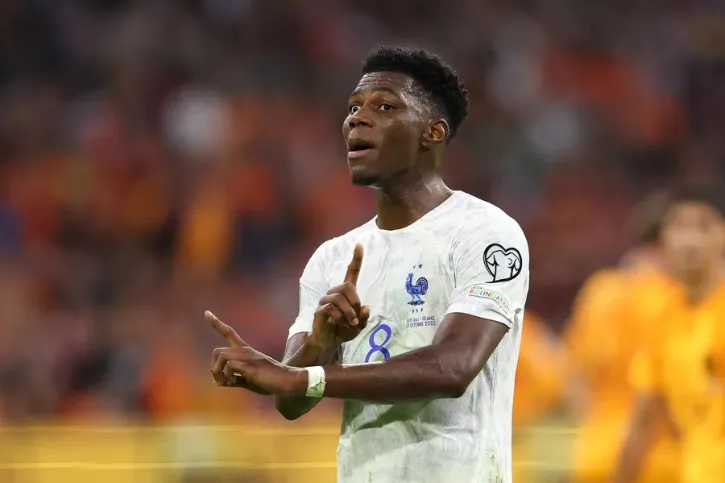 Kylian Mbappé's remarkable display secured France's spot in Euro 2024. His two goals, including a mesmerizing long-range strike, helped France defeat the Netherlands 2-1 in Amsterdam, maintaining their perfect record in Group B. Mbappé's opener came in the seventh minute, followed by a 53rd-minute goal. Although Feyenoord midfielder Quilindschy Hartman pulled one back for the Netherlands, it was the first goal France conceded in the campaign. Greece moved into the second place with a 2-0 win against Ireland, while the Netherlands remained in third.
Cristiano Ronaldo Shines for Portugal:
Cristiano Ronaldo's prowess was on full display as he scored twice to lead Portugal to a 3-2 win over Slovakia. He converted from the penalty spot in the 29th minute and later scored off a low cross from Bruno Fernandes. Ronaldo's seventh goal in six qualifying games took his international tally to an astonishing 125 goals. Portugal continues to dominate with a perfect record and a remarkable 27-2 goal difference, the best-ever performance in a European qualifying campaign.
Belgium's Triumph with Lukaku and Lukébakio:
Romelu Lukaku and Dodi Lukébakio starred in Belgium's victory over Austria. Lukaku scored his ninth goal in six games, securing advancement for Belgium with a 3-2 win. Lukébakio opened the scoring, and despite going down to 10 men, Belgium held on to secure their place in Euro 2024. Austria suffered their first loss in the qualifying rounds, and Belgium now leads the group with 16 points.
The excitement in European football continues to build as these powerhouse teams secure their places at Euro 2024. Kylian Mbappé, Cristiano Ronaldo, and Romelu Lukaku's heroics have left football enthusiasts eagerly anticipating the competition ahead.
Sweden's Chance of Overtaking Austria:
Sweden, although idle on Friday, still holds a glimmer of hope in Group F. With six points from five games, they remain in third place and maintain a chance of overtaking Austria, who suffered their first loss in the qualifying rounds. While the odds are challenging, the Swedes are not ready to give up, and their determination promises an exciting finish in the group.
A Collective Effort for Portugal:
Portugal's success is not merely the result of individual brilliance. Coach Roberto Martinez emphasized that Cristiano Ronaldo's form has been a key factor, but it's the collective effort that has led to Portugal's remarkable 100% record with a goal difference of 27-2. Ronaldo's role as a mentor and inspiration to the younger players is pivotal, highlighting the importance of teamwork in the beautiful game.
Belgium's Dominance with Lukaku:
Belgium's journey to Euro 2024 has been marked by the prolific scoring of Romelu Lukaku. His nine goals in six games not only secured advancement but also took his international tally to an impressive 79. Lukaku's partnership with Dodi Lukébakio has been a revelation, adding depth to Belgium's attacking prowess. Despite going down to 10 men, Belgium's resilience and Lukaku's brilliance propelled them to victory against Austria, solidifying their place in the tournament.
See other interesting sport news:
Cricket World Cup 2023: Shubman Gill Returns for India
2023 ODI World Cup: Pakistani Cricket Fan Takes Shelter in Police Van
As the qualifying rounds near their conclusion, the stage is set for a thrilling Euro 2024, with the likes of France, Portugal, and Belgium showcasing their strength and determination. The performances of Mbappé, Ronaldo, and Lukaku remind us why we love the beautiful game and why the upcoming tournament promises to be a football spectacle for the ages. Football fans worldwide eagerly await the showdown in Germany, where these European football giants will strive to etch their names in the annals of football history.