2023 ODI World Cup: Pakistani Cricket Fan Takes Shelter in Police Van: Lone Pakistani Fan, "Chicago Chacha," Takes Shelter in Police Van at ODI World Cup 2023 India-Pakistan Match. Source
Introduction:
In a heartwarming display of unwavering cricket enthusiasm, the "Chicago Chacha," a dedicated Pakistani cricket fan, found himself in an unexpected situation at the ODI World Cup 2023 in India. As India and Pakistan battled it out on the cricket field at Ahmedabad's Narendra Modi Stadium, this lone Pakistani supporter, despite not being able to enter the venue due to visa restrictions, remained resilient in his mission to witness the epic clash.
Key Highlights:
Lone Pakistani fan, "Chicago Chacha," unable to secure an Indian visa for the match.
The police van provided refuge to the passionate cricket enthusiast amidst a sea of Indian fans.
The India-Pakistan clash is a much-anticipated fixture in the ICC Cricket World Cup 2023.
The Full Story: 2023 ODI World Cup: Pakistani Cricket Fan Takes Shelter in Police Van as Entry to Narendra Modi Stadium for India-Pakistan Match
The 12th match of the ICC Cricket World Cup 2023 brought together the arch-rivals, India and Pakistan, in an epic showdown at Ahmedabad's Narendra Modi Stadium. Cricket fans from around the world eagerly awaited this intense encounter, but for the Pakistani contingent, getting to the stadium proved to be a complex challenge.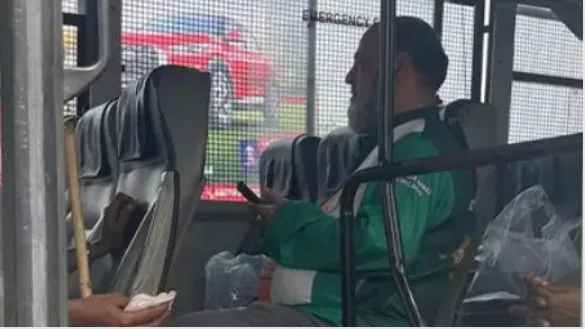 Visa restrictions stemming from security concerns meant that Pakistan residents were unable to attend the match, making "Chicago Chacha," a die-hard Pakistani fan from Karachi, the sole representative in the crowd. He was determined not to let this visa issue deter him from supporting his beloved team. Amidst a sea of Indian supporters and a charged atmosphere, "Chicago Chacha" stood out as a beacon of cricketing passion.
However, the overwhelming presence of Indian fans created a unique situation for the lone Pakistani supporter. As he arrived at the stadium, he realized that the vast number of Indian fans might make it difficult for him to fully enjoy the match in the midst of such intense rivalry.
In a surprising turn of events, "Chicago Chacha" found refuge in a police van parked near the stadium. This unexpected turn of events allowed him to witness the much-anticipated India-Pakistan clash while ensuring his safety amidst a charged and spirited crowd.
See other related article:
Kane Williamson's Spectacular Half-Century Marred by Injury in World Cup 2023 Comeback
Cricket World Cup 2023: New Zealand Thrives, but Empty Stands Raise Concerns
"Chicago Chacha's" dedication to his team and the sport was truly commendable. He symbolized the enduring spirit of cricket that transcends borders and brings people together, even in the face of political and security-related challenges.
As the match unfolded, with thrills and spills on the field, "Chicago Chacha" remained the embodiment of sportsmanship, demonstrating that cricket is a game that unites, even in the face of fierce on-field rivalries. His presence in that police van told a story of passion and commitment that the cricketing world will remember for years to come.
In a world divided by borders and politics, the "Chicago Chacha" exemplified the magic of cricket, where the love for the game knows no boundaries. The 2023 ODI World Cup India-Pakistan clash, with "Chicago Chacha" as its unlikely hero, will be etched in cricketing history as an extraordinary tale of a fan's unyielding devotion to the sport he loves.