Fire-Boltt Ninja Call Pro Max SmartWatch Reviews
Style Meets Technology
Charcoal Grey Elegance
Fire-Boltt Ninja Call Pro Max Smartwatch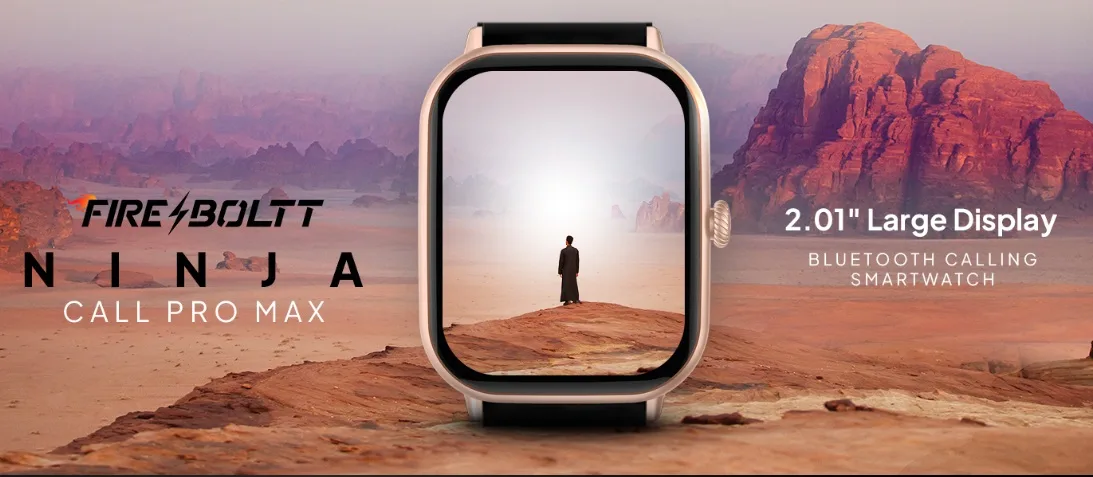 Large Display with Stunning Clarity (9/10)
The Fire-Boltt Ninja Call Pro Max Smartwatch is not your ordinary smartwatch. With a large 2.01-inch display and a brilliant resolution of 240×296 pixels, this watch takes style and technology to a new level. The 320 NITS Peak Brightness ensures that every detail comes to life with exceptional clarity and vibrancy. It's a treat for your eyes, whether you're checking the time or tracking your workouts.
Durable Metal Body (9/10)
This smartwatch boasts a sleek and stunning metal body design that not only looks fantastic but is also remarkably durable. It can handle the demands of the dynamic lifestyle. The impressive battery life is a game-changer, offering up to 7 days of continuous usage and a whopping 15 days of standby time. You won't have to worry about it running out of juice in the middle of your adventures.
Stay Connected with Bluetooth Calling (8/10)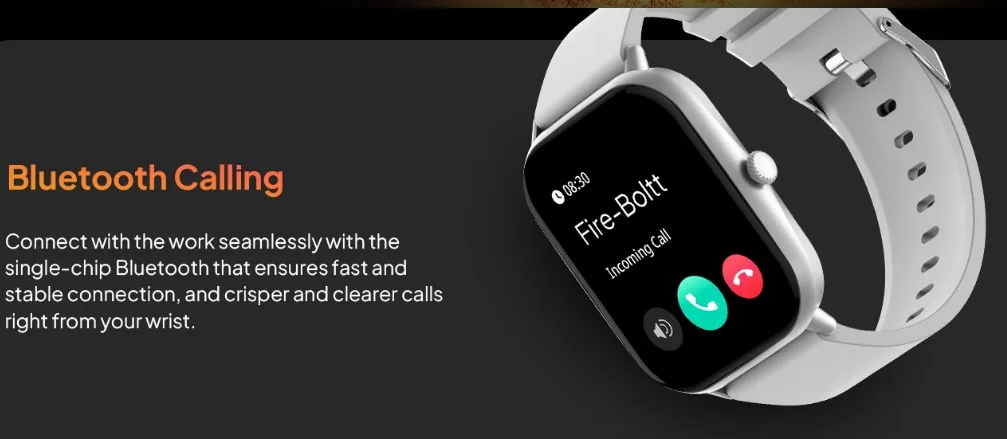 With Bluetooth calling, you can stay connected wherever you go. You can make and receive calls directly from your wrist, which is incredibly convenient. The audio quality is crystal clear, ensuring smooth and hassle-free conversations. Keep in mind that it needs about 2 hours of charging to reach 100%, and you'll need a 3.7V to 5V adapter or any laptop output for the charger.
Also read: Quick 8 Users Reviews: Fire-Boltt Ninja Call Pro Smart Watch
Camera and Music Control (8/10)
The Fire-Boltt Ninja Call Pro Max lets you take photos and videos effortlessly right from your wrist. You can also adjust camera settings and frame your shots for that perfect angle. Enjoy seamless control over your music with the music control feature, even though music cannot be stored in the watch, and volume control is not available.
Unlock Your Athletic Potential (9/10)
This smartwatch goes beyond just style and communication. It offers over 120 sports modes, making it a perfect companion for fitness enthusiasts. Whether you're into running, cycling, swimming, or yoga, it provides specialized tracking and insights for a wide variety of sports and activities.
Voice Assistance and Health Suite (8/10)
The advanced Voice Assistance feature is incredibly handy. With a simple command, you can access a world of information, manage tasks, and stay connected while on the move. The health suite is also comprehensive, with features like heart rate monitoring, sleep tracking, stress management, and sedentary reminders. Please note that this smartwatch is not a medical device but a valuable wellness companion.
Also read: Cheap and Best Mi Smart Watch Simple Tips to Buy
Smart Notifications and Water Resistance (8/10)
The Fire-Boltt Ninja Call Pro Max Smartwatch seamlessly integrates with your smartphone, keeping you informed throughout the day. You'll receive notifications for calls, messages, emails, and social media alerts right on your wrist, so you never miss an important update. Moreover, it's IP67 water-resistant, making it perfect for adventures in the rain or while swimming.
Express Your Style (9/10)
As you go with this multiple watch faces to choose from, you are free to customize your timepiece to suit any occasion. Whether you're going for a casual look or a more formal one, this smartwatch has you covered.
Package Includes Everything (9/10)
In the box, you'll find everything you need: 1 Smartwatch, 1 Manual, 1 Charging Cable, and 1 Warranty Card. It's a full package of your convenience.
Affordable Price (10/10)
While the M.R.P. stands at Rs. 14,999, the Great Indian Festival Sale Price is just Rs. 1,199, making it a fantastic deal for a feature-rich smartwatch.
Check out the more pricing details on Amazon
Conclusion (9/10)
The Fire-Boltt Ninja Call Pro Max Smartwatch is an impressive and affordable smartwatch that combines style, functionality, and durability. It's a great companion for those who want to stay connected, track their fitness, and enjoy the convenience of Bluetooth calling. With a sleek metal body, a large and clear display, and a comprehensive health suite, it's a reliable choice for those on the go. At this sale price, it's an excellent value for the features it offers.