If you're in the market for a smartphone that delivers on all fronts without breaking the bank, the OnePlus Nord CE 3 5G is here to make a statement. Packed with an array of fantastic features, this smartphone is designed to meet the needs of the modern user. Let's dive into the details.
OnePlus Nord CE 3 5G Reviews: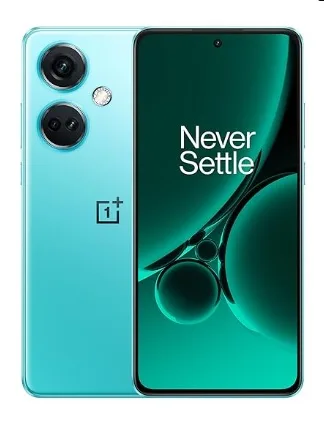 Design and Build
The OnePlus Nord CE 3 5G, in Aqua Surge, boasts a sleek and stylish design that's easy on the eyes. It feels comfortable to hold and impressively lightweight. The phone comes bundled with a sturdy case for added protection, which is a thoughtful touch. Its 93.4% screen-to-body ratio ensures a captivating viewing experience.
Display
The 6.7-inch AMOLED screen, boasting a 120Hz refresh rate, is truly mesmerizing. It offers a crisp and vibrant Full HD+ resolution with HDR 10+ support, ensuring that your content looks stunning. The 10-bit color depth adds to the immersive visual experience, making it a treat for video streaming, gaming, and more.
Performance
Under the hood, the OnePlus Nord CE 3 5G is powered by a Qualcomm Snapdragon 782G Mobile Platform. No matter if you're juggling multiple tasks, indulging in gaming, or streaming content, this phone effortlessly manages it all. With 8GB of RAM and 128GB of storage, you've got ample space for your apps, games, and media.
Camera Capabilities
Photography enthusiasts will appreciate the camera setup. The 50MP main camera with OIS support, an 8MP ultrawide camera, and a 2MP macro lens capture sharp and detailed photos in various scenarios. The 16MP front camera is no slouch either, making your selfies look flawless.
The camera features are a real highlight, from Ultra Steady Mode for smooth video recording to Nightscape for capturing stunning low-light shots. The inclusion of Google Lens and Pro Mode adds even more versatility to your photography.
You may also like to check other reviews:
iPhone 14 Pro Max Review: Unleash Vision with Unparalleled Power
iPhone 14 Plus Review: The Ultimate Powerhouse with Advanced Features
Battery and Charging
OnePlus didn't cut corners with the battery either. A hefty 5000mAh battery keeps the phone powered throughout the day, and when you need to recharge, the 80W SUPERVOOC fast-charging feature gets you back in action in no time.
Software
Running on OxygenOS 13 based on Android 13.1, the Nord CE 3 5G offers a clean and smooth user experience. It's packed with useful features, and regular software updates keep your phone optimized and secure.
Security
The in-display fingerprint sensor is fast and accurate, adding an extra layer of security to your device.
Package Contents
OnePlus ensures you have everything you need right out of the box, including a power adapter, Type-C cable, a welcome letter, and even a case for added protection.
Pricing and Warranty
The OnePlus Nord CE 3 5G is currently available at a special Great Indian Festival Offer price of Rs. 26,998. With the reputation of OnePlus, you can be confident in the quality of your purchase. The phone comes with a 1-year manufacturer warranty for the device and a 6-month warranty for in-box accessories, including the battery.
Pros:
Impressive camera setup with various modes and features
The AMOLED display is a visual delight, featuring a swift 120Hz refresh rate.
Powerful performance for multitasking and gaming
Fast-charging support for quick refueling
Clean and user-friendly OxygenOS software
In-display fingerprint sensor for added security
Cons:
No expandable storage option
Heavier users might prefer the 12GB RAM variant for even smoother multitasking
Final Verdict
The OnePlus Nord CE 3 5G offers an enticing blend of features, performance, and design that's sure to please the modern smartphone user. With a competitive price point, it's an excellent choice for those looking for a high-quality device without the premium price tag. Whether you're a photography enthusiast, a gamer, or just need a reliable phone for daily use, the OnePlus Nord CE 3 5G won't disappoint.
Check out the Great Indian Festival Offer Pricing Details
User Reviews: What Indian Users Have to Say
The OnePlus Nord CE 3 5G has generated a buzz among Indian users, and their real-world experiences shed light on the device's strengths and weaknesses. Let's dive into what users are talking about:
Sandhikshan Das – 4.0 out of 5 stars
Design: The phone's design is pleasing, though it's constructed from plastic with a glossy polycarbonate back, which is fingerprint-resistant.
Speakers: Dual speakers with Dolby Atmos sound provide a loud and immersive audio experience.
NFC: NFC support for wireless payments is a notable feature, allowing you to use Google Pay directly from your credit card.
Display: The 6.7-inch AMOLED display with a punch-hole camera and in-display fingerprint sensor is impressive.
Battery & Charging: The 5000mAh battery with 80W SUPERVOOC fast charging is a standout feature, recharging the phone swiftly.
Performance: The Snapdragon processor ensures smooth performance, even during gaming.
Camera: While the camera has a 50MP Sony sensor, the user feels the camera optimization could be better. Picture quality is described as underwhelming, especially in low-light conditions.
Missing Features: Some expected features, such as Portrait video mode and a pro video mode, are notably absent. Also, there's no 3.5mm audio jack.
Software: The phone uses Google Dialer, so silent call recording is not possible. Additionally, there's no built-in optimization, junk cleaning, or antivirus software.
Kaushik Angara – 4.0 out of 5 stars
Positives: The Snapdragon 782 processor delivers a lag-free experience, and the battery life is decent. 5G services are accessible. Camera performance is satisfactory, and 80W fast charging is remarkably fast.
Negatives: The flagship 50MP Sony camera disappoints, especially when zooming in. Some premium features are missing. Back cover and screen guard quality is subpar. Absence of a 3.5mm audio jack is a drawback.
Rohit Haryani – 4.0 out of 5 stars
Positives: The phone offers a solid display, fast fingerprint and face unlock, and a well-optimized OxygenOS 13. Battery performance is excellent, and the device stays cool even during prolonged usage.
Negatives: The back cover feels delicate, and the flagship 50MP Sony camera doesn't meet expectations. There are some issues with audio/video on YouTube, and the lack of a 3.5mm audio jack is a drawback.
Anurag A. – 4.0 out of 5 stars
Positives: The phone impresses with its display, battery life, and performance. Battery charging is swift, and it features a large RAM.
Negatives: The camera quality is rated as average, especially in low light. The phone tends to heat up during extended gaming sessions. Network speed on Wi-Fi 5 is not great.
Mohit – 4.0 out of 5 stars
Mohit praises the phone's build quality, battery life, camera quality, and the fast charging.
He suggests switching to 60Hz and using dark mode to conserve battery.
He also notes that it's a solid choice for those who prioritize calls, social media, and browsing.
The absence of premium features for the price range and the quality of the back cover and screen guard are highlighted as drawbacks.
SHAILENDER MEENA – 4.0 out of 5 stars
SHAILENDER Meena commends the phone's performance and software experience.
However, he feels the camera needs optimization and notes that it tends to over-brighten photos in normal conditions.
The phone's affordability, especially during a festival offer, is highlighted.
These user reviews paint a comprehensive picture of the OnePlus Nord CE 3 5G, highlighting its strengths and areas where improvements could be made. It's clear that the phone offers a good balance of features and performance, making it a solid choice for many users, especially considering the competitive pricing.