Introduction:
Hey there, if you're a new investor, congratulations on taking the first step toward securing your financial future! Investing can be a bit intimidating, but with the right guidance, you can make your money work for you. In this blog, we'll explore the top 10 investment tips tailored for beginners, with a particular focus on personal finance management. These tips will help you navigate the world of investments with confidence, avoid common pitfalls, and make informed decisions.
Home Takeaway Tips:
Start Early: Time is your best friend in the world of investing. The sooner you start, the more your money can grow.
Diversify Your Investments: Imagine your money as a flock of birds. You wouldn't want all your birds in a single cage, right? Instead, let your birds fly freely in different cages. In the same way, don't stash all your money in one place. Spread it across various options to keep it safe and growing.
Set Clear Goals: Define your financial goals and understand your risk tolerance before diving into investments.
Top 10 Investment Tips for New Investors
Now, let's dive into the top 10 investment tips for new investors.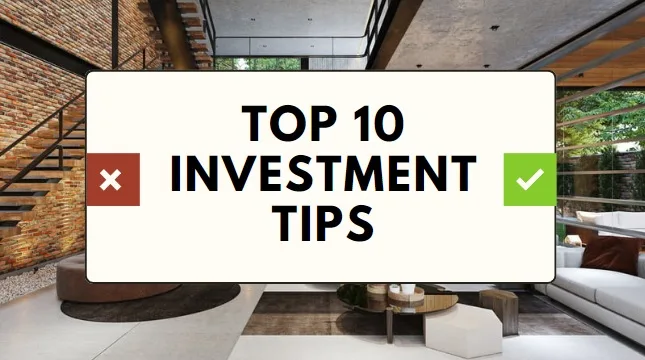 1. Educate Yourself:
Investing is not something you should rush into without understanding the basics. Take time to read financial books, attend seminars, and consider online courses. Learning about different investment options and strategies will empower you to make well-informed decisions. You don't need to become a financial expert, but a solid foundation of knowledge is essential.
Also read: How to Invest Money in the United States and India in 2023
2. Create a Budget:
Before you start investing, get a handle on your personal finances. Create a monthly budget to track your income and expenses. Knowing where your money is going is the first step to freeing up funds for investments. It's an eye-opening experience that can help you identify areas where you can cut back and redirect that money into your investments.
3. Emergency Fund First:
Your investment journey should begin after you've established an emergency fund. This fund should be your financial safety net, covering at least three to six months of living expenses. It ensures you're prepared for unexpected emergencies like medical bills or car repairs without having to dip into your investments.
4. Define Your Financial Goals:
Starting to invest without a clear goal is like sailing a boat without knowing where you're headed. Are you investing for retirement, buying a house, starting a business, or funding your child's education? When you define your objectives, you'll be able to tailor your investments to meet those specific needs. Your goals will also determine your investment horizon and risk tolerance.
5. Start Early and Stay Consistent:
The magic of compounding interest is your best friend in the world of investing. The sooner you begin, the longer your money has to grow over time. Stay consistent by making regular contributions to your investments, even if they are small amounts. Investing isn't about trying to guess the perfect moment to jump in or out of the market. Instead, it's all about the time you spend being a part of the market.
6. Diversify Your Portfolio:
Diversification is like spreading your risk across multiple baskets. Avoid the mistake of betting all your money on just one kind of investment. Diversify by investing in various asset classes like stocks, bonds, real estate, and even alternative investments like cryptocurrencies. This reduces the risk that comes with any single investment underperforming.
Also read: The Ultimate Guide to Alternative Investments: Types, Tips, Strategy
7. Understand Risk Tolerance:
Investors are like snowflakes—no two are exactly the same when it comes to how much risk they're comfortable with. It's crucial to be honest with yourself about how much risk you're willing to take. If you find yourself tossing and turning at night, worried about your investments, it's a sign that you might be pushing the risk envelope too far. A good rule of thumb is to only invest money you can afford to lose without impacting your daily life.
8. Keep an Eye on Fees:
Investment products often come with fees. These can eat into your returns over time. Research and choose investments with lower fees to maximize your profits. Index funds and ETFs (exchange-traded funds) are known for their low fees, making them attractive options for beginners.
9. Stay Informed, But Don't Panic:
Market fluctuations are part and parcel of investing. Don't let short-term market swings lead to impulsive decisions. Stay informed about your investments and the markets but maintain a long-term perspective. Historically, markets tend to recover over time. Don't allow worry or the desire for quick gains to steer your investment decisions.
Also read: 7 Best Assets to Buy in 2023: Great Opportunity to Invest
10. Review and Adjust Your Portfolio:
Your life changes, and so do your financial goals and risk tolerance. What worked for you a few years ago may not be the best strategy now. It's a good idea to check on your investments from time to time and make changes if you need to. Rebalancing your portfolio ensures it remains in line with your objectives. If one asset class has grown significantly, it might be time to sell some of it and redistribute your investments.
Conclusion:
Investing is a journey that requires patience, knowledge, and careful planning. By following these top 10 investment tips for new investors, you'll be better equipped to make informed choices and grow your wealth over time. Remember to start early, diversify, set clear goals, and stay informed without panicking during market ups and downs. Keep these principles in mind as you embark on your investment journey, and you'll be well on your way to securing your financial future.